The popular British actress Millie Bobby Brown who showcased her brilliance through her character as Eleven in the Netflix series Stranger Things has been making the headlines lately. However, this time it's not her acting skills that made her the center of the attention, rather it's the love life update on her social media handle. When the pair was engaged, we saw Brown's social media display a picture of her and Bongiovi in a romantic embrace.
Keep reading to gain insights into the Millie Brown Engagement Ring, including its intriguing backstory
Millie Brown Engagement: The Ring
The striking 4 carat cushion cut diamond we see Brown adorning is set on a pavé gold band with a halo setting. With a ring as exquisite as this, it's hardly surprising that the announcement of the engagement sparked a social media frenzy among admirers, who flocked to the site to wish the happy pair the best and drool over the magnificent diamond. In case you're searching for a comparable aesthetic as the Millie Bobby Brown engagement ring, we've got some alternatives that you can consider!
Klarissa Halo Diamond Eternity Ring
The Klarissa Diamond Ring has a central solitaire diamond which includes four prongs and is adorned by a halo of pavé set diamonds. The V shaped holder which is decorated with diamond accents displays a comparable look as that of Brown's engagement ring.
SHOP KLARISSA HALO DIAMOND ETERNITY RING
Lumina Halo Diamond Eternity Ring
Similar to Millie Bobby Brown's engagement ring, the Lumina diamond ring includes a basket like holder which enhances its profile. A circular halo of pavé set diamonds increases the overall radiance and forms a firm grip on the solitaire that is bethroned gloriously in one place.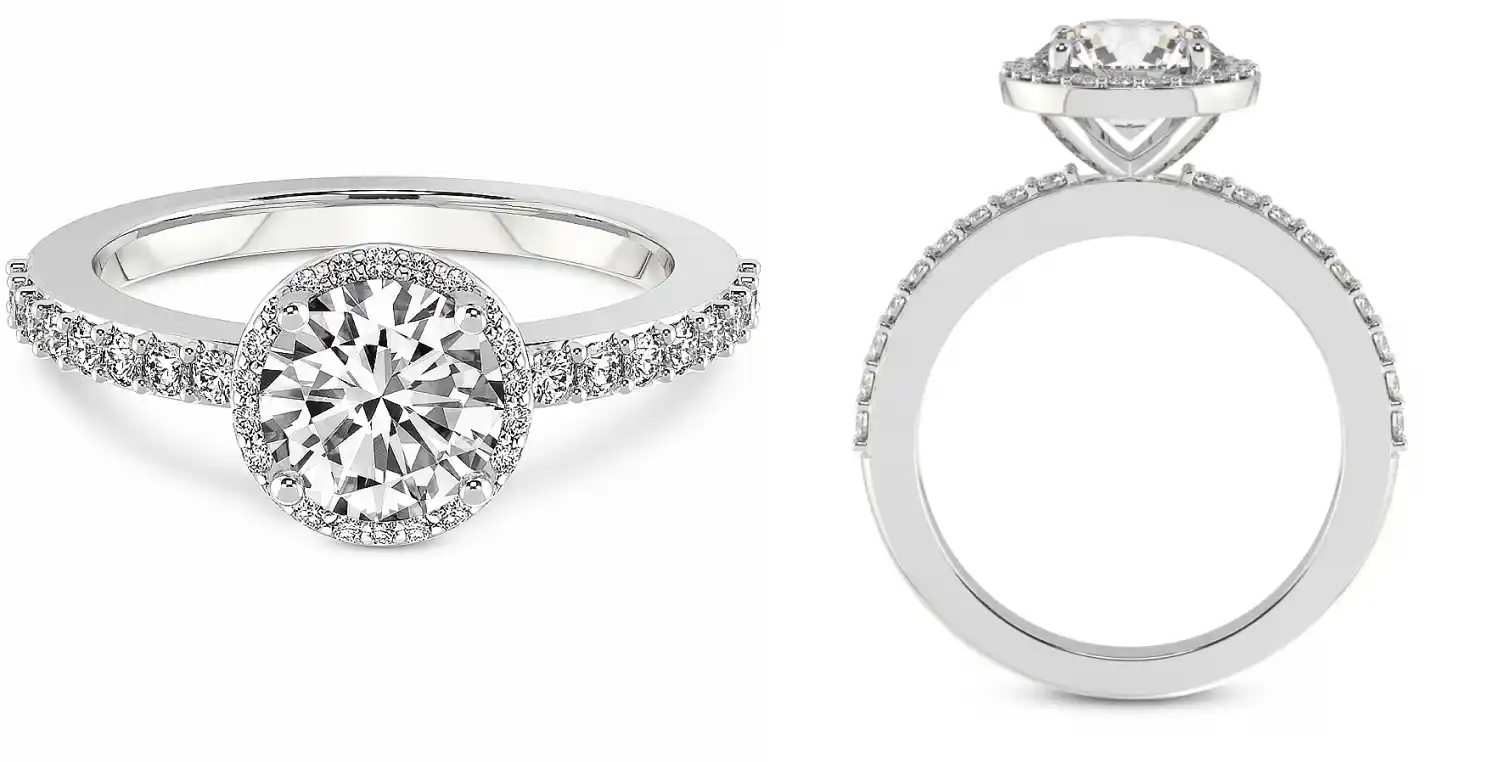 LUMINA HALO DIAMOND ETERNITY RING
Millie Brown Engagement: The Love Story
Brown's outstanding performance in not only Stranger Things, but also in the popular movie Enola Holmes, has given Brown a prosperous career in the entertainment world. While Bongiovi, 20, hasn't made his film debut yet, it's obvious that he loves music given the musical heritage of his family. Many people are curious about the couple's love story and how they met and fell in love as a result of Brown's engagement news. Sources claim that the couple has been dating for a while and Millie proudly mentioned in her post that they have spent three summers together, quoting the famous lyrics of Taylor Swift's song "Lover", "Loved you three summers now, honey, but I want 'em all".
Millie Brown Engagement: The Story Around It
It's quite fascinating to know that Millie got engaged at a young age of just 19 with Bongiovi who is 20. Bongiovi is a member of a renowned musical family; his father being the famous musician Jon Bon Jovi. It's possible that their mutual love for music brought the couple together, indicating a strong link between the two love birds. Along with dedicating herself to her acting career, Brown has also dabbled in skincare and cosmetics, establishing her own brand called Florence by Mills. She even makes her own coffee mix, which is ideal for fans to sip on as they catch up on the most recent news on the young actress. Fans have been wondering about the couple's future after learning about Millie Bobby Brown and Jake Bongiovi's engagement. Right after the announcement of their engagement, fans congratulated the couple and voiced their excitement via social media.
Their engagement is a prominent proof of the delight of falling in love. They are an ideal example that age is just a number and that when it comes to love, there is no stopping to what the heart wants. With their whole life waiting ahead of this beautiful couple, we cannot wait to know what new heights they plan to conquer.
That being said, their fans are over the moon and one can see how Brown's Instagram is full of raving over how beautiful Millie Brown's engagement ring appears in her post. The Instagram post clearly appears to be picture perfect as Brown and Bongiovi pose in an affectionate embrace.
We wish them all the love and cannot wait for them to spend their forever together as partners for life. From the Friendly Diamonds team, we extend our heartfelt congratulations to the joyful couple and wish them many more seasons of love to come!