No matter where their path through life takes them, the moment of a marriage proposal is one that a couple will remember for the rest of their lives.
One approach to ask your significant other to marry you is to write the traditional but extra-special words "will you marry me?" in rose petals and have a photograph taken on a hot air balloon.
However, you might need to do some research to find the marriage proposal concept that works best for you and your spouse.Similarly, you need to figure out the best aesthetically pleasing look for your spot as hiring a photographer and clicking those stunning pictures are a major part of the agenda.
While some couples may dream of a unique proposal idea in front of everyone they know or even with only those close friends and family members, others may want a showy, extravagant outdoor proposal.
However, a traditional, sentimental proposal is still the most common choice and may be a sweet way for a couple to initially declare their wish to get married and start a life together.
Frederick Ramos & Jazmin
One needs to know that marriage proposal ideas involve much more than simply a question. This romantic gesture requires thinking and consideration to truly express love and devotion.
You require at least a few marriage proposal ideas in your mind before executing this grand yet dreamy step.
It could be best for you to start your marriage proposal ideas with a few lighthearted suggestions that are sure to make you feel less stressed and settle those tense nerves, we understand it is a big deal.
That's why we help you to make your marriage proposal ideas special in several ways, such as with the right setting, the right words, and most importantly a gorgeous diamond ring.
If you decide to drop down on one knee and prepare a proposal with that special song the two of you share and recognize as your own, it will be more heartfelt.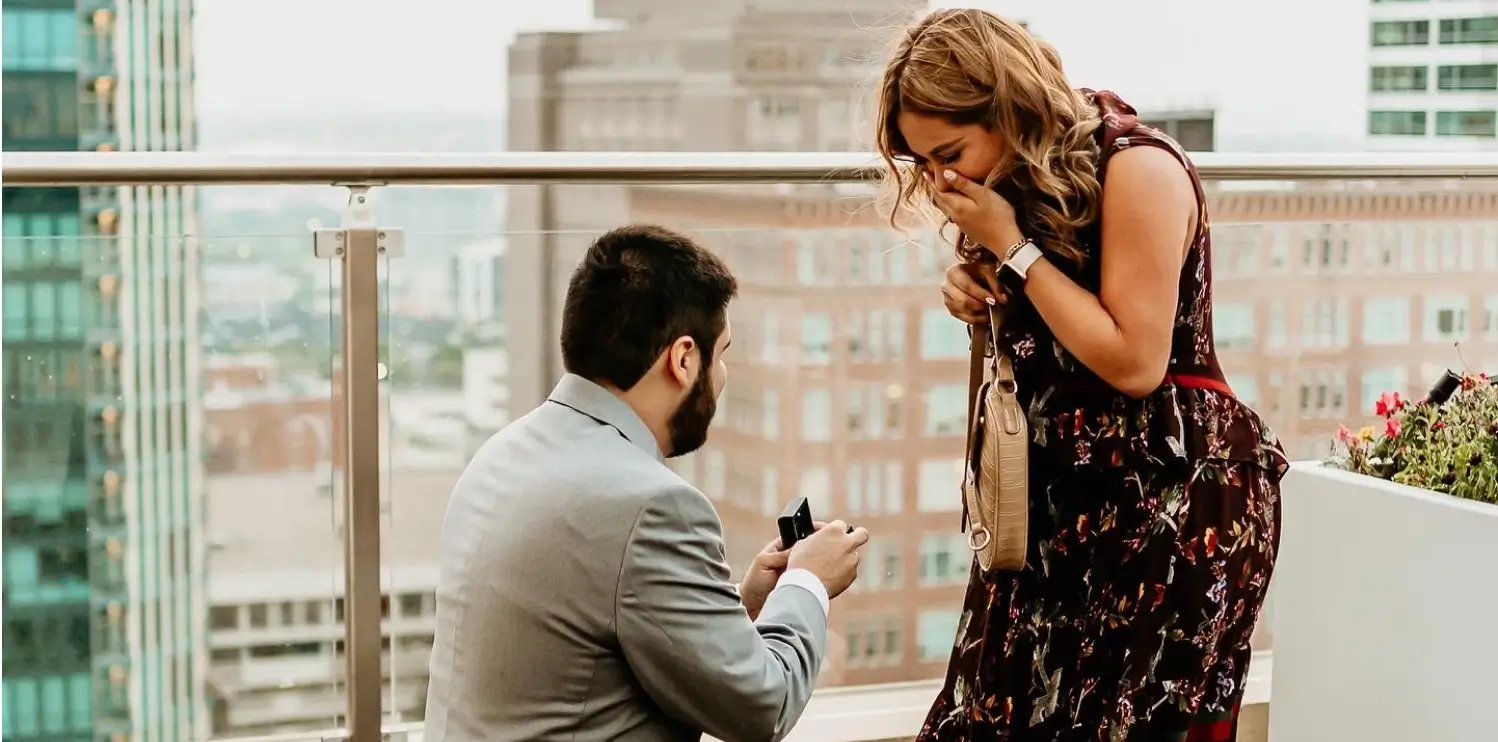 Trino Valenzuela & Abigail
Don't rush the most important question you will ever ask or answer. Pick the perfect spot and how you plan a proposal to charm your partner so that all they can say is yes, a million times yes!
Moreover, with a gorgeous ring from Friendly Diamonds you're sure to get a positive reply from your sweetheart.
Having the perfect words ready is essential for this most romantic question, whether it be the traditional "will you marry me?" or more elaborate speeches, poetry, music, or conversations.
The highlight of the marriage proposal is the engagement ring. If you choose the ideal marriage proposal concept with great care and attention, your engagement ring will certainly outshine for a very long time following the big question.
That's why we have curated a list of ideas to aid you design the perfect marriage proposal idea that will sweep your sweetheart off their feet.
Get a personal chef to do the magic
Have a personal chef prepare your partner's favorite food for a romantic dinner date at home.
There are several variations on how to use this original marriage proposal concept, but one of our favorites is to have the chef hide the lustrous diamond ring on the plate for a dish.
Likewise, you may add the beach into your plans.With all the arrangements we are sure your proposal is going to be the best beach proposal idea that she never saw coming!
What's more? We are sure you can add more charm to your planning just by including a lab diamond ring in your marriage proposal ideas.
A good example is the Delanie Side Cuff Diamond Ring
On the unique Delanie Diamond Ring, a four prong setting supports the central solitaire. Two hidden diamonds are set beneath the solitaire, and the ring's side diamond cuffs on either side of the cathedral knife-edge shank give it a special touch.
Decorate your room with pictures of you and your sweetheart
Print each and every photo that was taken of the two of you throughout your relationship.Choose a room in your house or it could be a hotel room and decorate it with pictures.
If you want to get more creative you can spell out 'will you marry me?' with the pictures of your memories together.
Landon Schreck
This way you'll be asking one of the most significant questions of your life while being surrounded by some of the best real life memories of your time spent together which are decorated with those adorable string lights.
With such a fairy tale like marriage proposal idea the only thing missing is a diamond ring and you have it all sorted! We recommend a mesmerizing engagement ring that goes with your fairy tale theme.
Twisted Vine Diamond Ring
The Twisted Vine diamond ring has a solitaire diamond with a distinctive shank that has a twisted band. Along with a pave set, the line of diamonds turns into a simple metal band.
SHOP TWISTED VINE DIAMOND RINGS SETTING
Pick a book
Nothing can compare to those vintage vibes you plan to give out within your marriage proposal ideas.
We like the concept of using a book as the inspiration for your proposal, whether you choose to cut out the inside of a book and put the ring within, or use an empty notebook and attach a love poem inside.
The concept of customization, though, is unparalleled.
If you are thinking of making your spouse a personalized book as a complete surprise perhaps you might want to go the same way with your ring as well.
Choose the create your own option at Friendly Diamonds to get that unique ring with your proposal!
CREATE YOUR DIAMOND ENGAGEMENT RING
While Buying a Christmas holiday tree, pop the question
Going to purchase a Christmas tree soon? How about you add an ornament that will change your life forever?
Customers have occasionally pre-selected their tree and asked the owner of the tree farm to adorn it with a "will you marry me?" ornament. This is definitely a merry way to get everything on your holiday wish list.
Christiaan Tam
A hot tip for the snowy weather would be to have hot chocolate and cozy blankets available. To top it off, get the sparkling Lumina Halo Diamond Eternity Ring to truly make this moment nothing less than a dream come true.
SHOP LUMINA HALO DIAMOND RING SETTING
Include live music
Finally the best and the most popular kind of marriage proposal idea is at the concert. It may often include live performances by an orchestra or band. You are sure to get those brownie points if the artist has personal meaning for the two of you.
A special way to surprise your loved one is by stepping things up a notch. You can involve the venue to see if you can pop the question on stage.
You may get in touch with the artist's crew to ask them to pause the performance and make an announcement to set the stage up for your proposal.
With such an extravagant and flawless planning your lady love or your man is sure to be overwhelmed by this unexpected surprise.
Wait, that's not all! You cannot complete a proposal without those exquisite lab diamond engagement rings. Thats where Friendly Diamonds Intertwine Bliss Solitaire Ring comes into play.
SHOP INTERTWINE BLISS SOLITAIRE SETTING
This online eco-friendly brand will undoubtedly satisfy all of your marriage proposal ideas and offer just the diamond engagement rings you want to give to your significant other. With lab-grown, conflict-free diamonds, you can never go wrong with this jewelry store based in New York.