The world as we know it has changed. With a click of a button and one tap on a screen, you can have almost anything delivered to your doorstep.
Jewelers today have online portals for their customers to go online shopping when searching for their wedding bands, loose diamonds, diamond rings, and fine jewelry.
But should you buy your engagement ring online?
After all, to buy an engagement ring is to make the most significant purchase of your lifetime.
We think yes, and here is why.
Why buy an engagement ring online?
Let's give you some perspective.
Finding the perfect ring is all about finding the ideal match for your partner. Online retailers provide quality customer service where the jewelry experience comes straight from their showroom to your living room, or for that matter, straight to wherever you are.
You could be seated commuting to work, at your desk eating lunch, or just relaxing on your couch, and with a click of a button or tap of a screen, you'd scroll through an assortment of ring styles, center stones, and diamonds. You would have the entire shopping experience available to you wherever you go.
So yes, that is one reason to buy an engagement ring online. You can do it whenever, wherever, without the need to commute to a physical store.
Is buying an engagement ring online worth it?
Absolutely!
Shopping for a ring at a physical store will provide you with limited options. But buying your engagement ring online will give you myriad options to choose from and allow you to digitally create your ring and see what it looks like before it is delivered to your doorstep.
How to buy an engagement ring online?
Online jewelry brands provide a simple three-step process to create and buy an engagement ring online.
For example, Friendly Diamonds, an eco-friendly lab diamond jewelry brand, allows you to create your engagement ring by simply picking your ring setting, choosing your lab-grown diamond, and completing your ring with a personalized engravement if desired.
When creating your engagement ring online, you also get to choose the metal and metal color you want, ranging from white gold, yellow gold, rose gold, and platinum.
What to consider when buying an engagement ring online?
Shop With a Reliable Jeweler
Online shopping is all about reliability. Look into your online jeweler's credentials before buying an engagement ring online. Read through their entire website and understand everything you need to know about their shipping process, return policies, and customer services. Also, check for customer reviews on review sites to gain insight into the quality of their customer care and services.
Buy Only Certified Diamonds
When you buy an engagement ring online, it must come with a diamond certificate that gives you all the details you should know about your diamond. The diamond certificate confirms the quality of your gemstone and is unique to your diamond. A certificate from GIA, IGI, or GCAL is most reliable as they come from leading diamond grading institutions that authenticate the quality of your gemstone.
Don't Skip The Return Policy Section
There will be times when, for unforeseeable reasons, you may have to return your ring to your online jeweler when buying an engagement ring online. You must read through the return policy in case a situation arises where you need to return or exchange your ring.
Check on the duration you have to return or exchange your ring. Is it free, or will you be charged for it? Is the cost of the shipping return covered by the online jeweler? Do you have to pay a fee to resize your ring? And does your ring have a lifetime warranty and upgrade?
These are just a few of the questions you should browse through when reading your online jeweler's return policy.
If your online jeweler doesn't have a return policy, you should quit shopping from that portal and find one with a return and exchange policy.
Check on the Shipping Procedures
Your online jeweler's shipping procedures determine the safety of your ring when it leaves the showroom to make it to your doorstep. A reliable jeweler offers free shipping and delivers your package to trustworthy pick-up destinations like USPS and FedEx in case you are unavailable when your ring is delivered.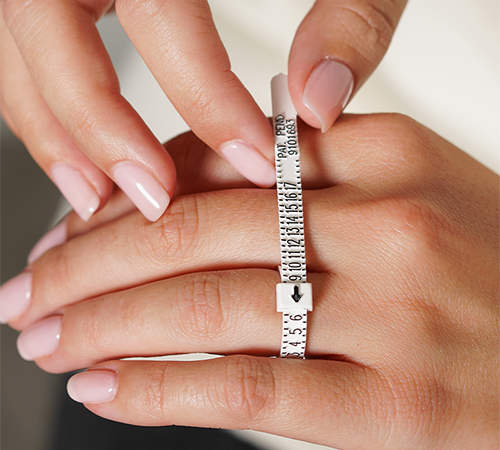 Size It Right
Shopping for an engagement ring online requires getting the ring size right. The size of a ring is measured in millimeters and is the measure of the ring's inner circumference. To figure out your partner's ring size, either ask her friends and family or size up a ring from her jewelry box if planning a surprise, or just ask your partner if the proposal is not a surprise.
Check The Diamond Cut
The cut of your chosen diamond determines how well your gemstone shall interact with light. It is one of the most important aspects of the Diamond 4 Cs, i.e., cut, clarity, color, and carat weight.
The cut comes down to the diamond cutter's expertise and must be looked at thoroughly when buying an engagement ring online. Check for 360-degree videos of the diamond to see its brilliance and sparkle.
Search For Eye Clean Diamonds
By eye clean, we mean blemishes; external flaws and inclusions; internal flaws that can't be seen with the naked eye. Look at the diamond on the jeweler's online store carefully to determine its clarity to get an eye-clean diamond when buying an engagement ring online.
Assess The Color
Perfect diamonds have no hue and are rare. A diamond's colorlessness is graded from D; colorless to Z; light yellow. D diamonds are considered the most valuable. However, diamonds in the G to I range appear colorless and are priced lesser than gemstones in the D to F range. Make sure you look closely at the diamond's photograph and video to assess its color when buying an engagement ring online.
Choose Your Carat Weight
Carat denotes the diamond's weight. The price of your diamond goes up with an increase in carat size. We recommend focusing on your diamond's cut, clarity, and color before utilizing the rest of your budget on the carat weight.
Go Eco-Friendly
Sustainability is the need of the hour, especially with all the mined diamond industry is infamous for. Lab diamonds created in state-of-the-art laboratories leave a smaller carbon footprint on the planet, are part of an ethical supply chain, and are 100 percent conflict-free gemstones.
They are also 40 to 50 percent cheaper than lab diamonds, making them a budget-friendly option. They have the sparkle of natural diamonds as they are physically, chemically, and optically the same.
Get Expert Advice
Getting expert advice puts you at ease when shopping for an engagement ring online.
Request to speak to somebody on your online jeweler's customer care service team to have all your doubts and questions resolved before you buy an engagement ring online.
For example, Friendly Diamonds offers a free video consultation with their in-house gemologist and diamond engagement ring specialist so that you can know everything there is to know about your purchase.
Don't Be In A Hurry
When looking to buy an engagement ring online, take all the time you need so that you make the right choice, one that'll mark the beginning of a new chapter of your life and light up a smile on your partner's face.