Holiday seasons mean all festivities and celebrations are coming your way. Hence, it's no surprise that a special treat to charm your loved ones and show gratitude to your friends is lingering in your mind.
Especially when it comes to Christmas, which is undeniably the most special time of the year, you are bound to bring friends and family together to cherish the joy, light, faith, and gratefulness for one another.
No matter what holiday you choose to celebrate, buying wonderful presents for the people we care about brings an unmatchable level of happiness and satisfaction that is simply beyond words. In the end, what matters are the gifts and what they symbolize; the expressions of love and gratitude.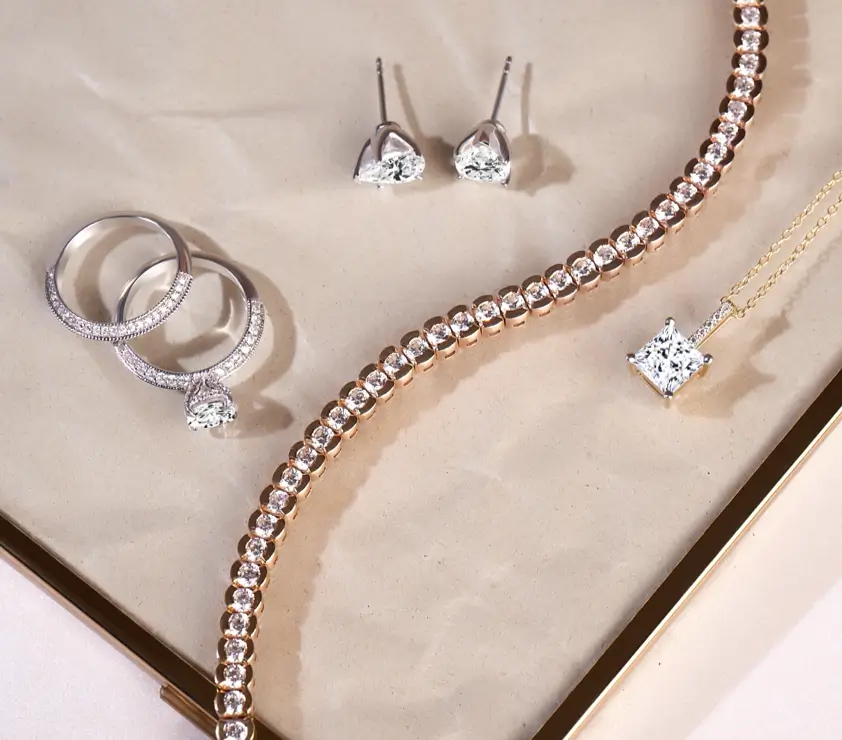 Inevitably, those adorable stocking stuffers and advent calendar gifts are incredible. But you can never go wrong with diamonds, as they are the sparkling choice for your Christmas gift ideas 2022. You can exchange these sparkles while enjoying the much-needed quality time with family and friends in front of the cozy fire pit, perhaps with a large mug of steaming hot chocolate or a latte for coffee lovers.
However, this blog aims to stand as the perfect holiday gift guide for those who wish to surprise their special ones with a jewelry gift that will leave them swooning.
Make diamond jewelry your go-to Christmas present
It is never too soon to start thinking of Christmas gift ideas 2022. What better way to pick the perfect diamond jewelry this Christmas to present to your partner or a best friend?!
And if you still need to decide what great gift you want to give your loved ones this holiday season, at Friendly Diamonds, you'll find the best diamond jewelry for all your Christmas gift ideas 2022. With a spectacular array of lovely, customizable jewelry gifts, you should definitely make diamond jewelry your go-to as your Christmas gift idea.
While considering some excellent Christmas gift ideas 2022 with Friendly Diamonds, you can find jewelry that ranges from diamond tennis bracelets to classic diamond stud earrings and everything in between.
Lab diamonds are the perfect gift for Christmas
Moreover, this Christmas season, along with the twinkling lights of the stars, you might want to own a twinkle of your own. If you were to ask us, the best twinkles to make your own or to join your Christmas gift ideas 2022 are the dainty little lab diamonds.
An exceptional end to the year and an ideal welcome to the new year, these lab diamonds are sure to enhance the glorious occasion of Christmas. With the same physical, chemical, and optical composition as the naturally found diamonds, these lab diamonds are meant to be sustainable and, at the same time, possess the same brilliance and radiance as that of a natural diamond.
These lab diamonds are perfect for the miraculous season of Christmas, as just like this auspicious occasion, our lab diamonds are perfectly eco-friendly and include significantly less carbon footprint. These lab-grown diamonds are much more sparkly, and one can hardly tell the difference between a lab diamond and a naturally found diamond.
Hence, picking a lab diamond that rests beautifully on your jewelry as your primary Christmas gift idea 2022 is a step in the right direction to make your best friend or your beau happy.
Also, you may or may not know the popular styles of diamond jewelry that makes the best diamond jewelry Christmas gift idea. Below are some of the most adored diamond jewelry pieces from the Friendly Diamonds online store.
Lab Diamond Rings
Firstly, lab diamond rings are a must if you are a diamond or even a jewelry enthusiast. The variety of diamond rings not only limits engagement rings but also opens many options to pick from and include in your Christmas gift ideas; they could be both eternity rings and couple rings. We have selected the best ring options available at Friendly Diamonds for you to choose from easily.
Oval Diamond Eternity Band
The stunning sparkle of the Oval Diamond Eternity Band makes a promise to your sweetheart of an endless amount of love and friendship.
The uniqueness of the oval-shaped diamonds makes this ring a trendsetter. Therefore, if you want to woo your partner, this is the perfect Christmas gift idea that will sweep her off her feet.
Ardor Couple Ring
A unique Christmas gift idea for lovely couples who wish to express their love and want to put a ring on it, the Ardor couple rings are just the right pick. The interlocked bands develop into a stylish design that embraces and flows toward the back of the ring, symbolizing togetherness and affection.
Lab Diamond Bracelets
Further, you can never be wrong with a lab diamond tennis bracelet as your Christmas gift idea 2022. These sparkling bracelets fit flawlessly as a gift to anyone, be it your sister, mother, or girlfriend.
This diamond trail is a delightful pick for anyone who wishes to flaunt these exquisite diamonds on their wrist, along with the sparkle of the snow-clad Christmas trees. A subtle sparkle to go along with the beauty of the festive feels.
Serene Diamond Bracelet
The Serene Pear Lab Diamond Tennis Bracelet is a rare beauty crafted with a row of lustrous pear-cut diamonds perched elegantly on round three-prong settings that hold gently to the wrist. Therefore, this vintage bracelet is the perfect Christmas gift idea.
Cecily Diamond Bracelet
The Cecily round lab diamond tennis bracelet is a true statement piece, as it begins in the middle with a large diamond and flows to form smaller gems at the end. The bracelet is ideal as a Christmas gift idea 2022 because of its beauty and radiance.
Lab Diamond Pendants
Diamond pendants are always a classic. They have the absolute glow to match the magical aura of the Christmas-y feel. The delicate pendants manage to rest elegantly around the neck of the adorner.
The adorable dangling diamond pendant will be the best Christmas surprise. The kind of flexibility this gift possesses can perfectly fit anyone be it someone your mother's age or your kid's age.
Quartze Split Diamond Pendant
The Quartze Solitaire Pendant is a real attention-getter appropriate for all occasions. A thin split bail supports the diamond pendant, which hangs gracefully; hence, if you want to pick any pendant that suits your choice or your lady's, add this pendant to your Christmas gift idea 2022 list.
Flaire Halo Lab Diamond Pendant
The Flaire Halo Lab Diamond pendant is a sparkling beauty, exuding the adorner's sense of style and elegance. This could be that Christmas gift idea 2022 you have when you know that you want to present a piece of classy and gorgeous diamond jewelry to that special someone.
Lab Diamond Earrings
Finally, nothing makes a lady happier than diamond stud earrings, especially if they are lab diamonds from Friendly Diamonds. The dainty little studs work as the perfect match to every outfit, be it a classy dress or your casual jeans.
Suppose you are looking for a Christmas gift idea 2022 that can be a useful addition to your lady's wardrobe or a beautiful gift for your best friend to enhance her jewelry collection. In that case, the studs are your way to go.
Heart Diamond Stud Earrings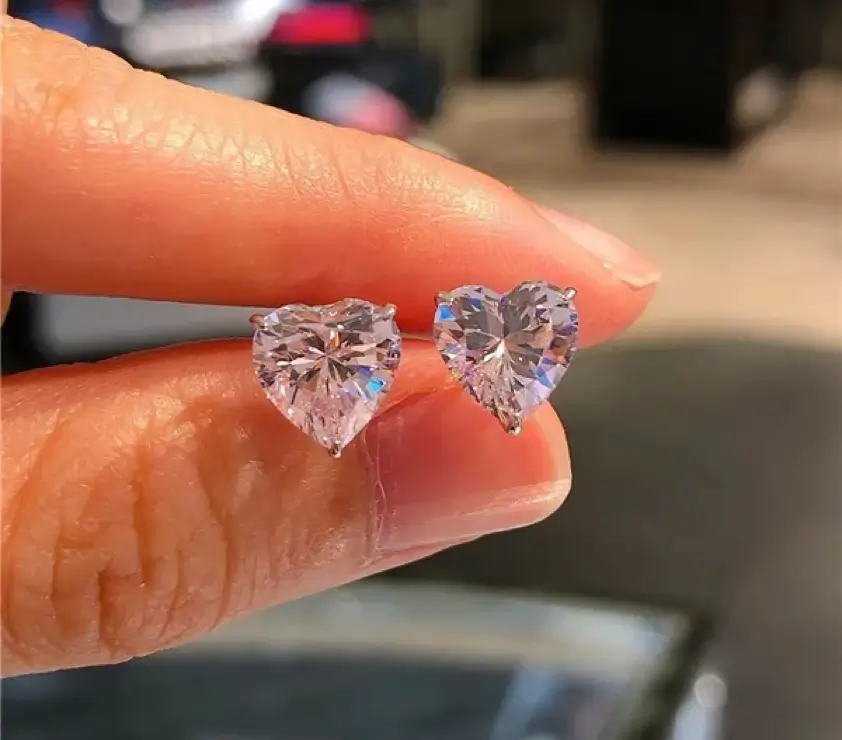 These stunning heart-shaped diamond stud earrings convey love, affection, and commitment. The three-prong heart lab diamond stud earrings have a sturdy setting which helps in supporting them, giving the wearer a safe and regal appearance.
This Christmas gift idea 2022 should be a must because the season oozes romance and affection, and what better way than presenting a heart-shaped lab diamond stud earring to your sweetheart?
Oval Diamond Stud Earrings
The oval cut lab diamond stud earrings are one of the sought after styles, as it grabs ones attention thanks to the design's distinctive four prongs holding the diamonds, and what's more, they stand for eternal love. This lab diamond Christmas gift idea 2022 will surely promise you that excited reaction that you were seeking.
Why Choose Friendly Diamonds?
Friendly Diamonds is an eco-friendly online jewelry brand based in New York with a variety of lab diamond jewelry. With a wide range of dainty diamond picks, the brand also provides an option to create your own range of diamond jewelry.
This allows you to craft your desired diamond earring, pendant, or ring, enabling you to execute that extraordinary Christmas gift idea 2022 with which you wish to present your beau.
The brand holds pride in excellent customer experience, flawless diamonds, and, most importantly, consultation with an expert gemologist to help you better understand how to choose the right jewelry.