Wearing your heart on your sleeve is an expression of love, a love you share with somebody you truly care about. It is a feeling that makes the world seem brighter and happier and inspires the world to be a better place.
Love indeed is beautiful, for when two people are in love, they mirror each other. They mimic each other's body language, reactions, unconscious gestures, and nonverbal cues. They develop identical tastes, reactions, and facial expressions, especially when they're soulmates and twin flames.
Even when it comes to their taste in jewelry, soulmates enjoy wearing rings, bracelets, or other matching jewelry for couples. And we couldn't agree more; sharing your life with your partner means you choose to double your joy and halve everything life throws your way with the power of two.
Let's double the joy with a curated range of matching jewelry for couples!
Couples Rings - The Circle of Love
The design for the pitch-perfect couple's rings is to personalize the design imprint, motif, or incorporate personal style into the design for His & Her rings. Couple rings, jewelry sets, or similar items are top choices for wedding trousseaus of the bride and bridegroom and for couples. When it comes to matching jewelry for couples, there's nothing better than a selection of elegant and stylish diamond rings and classic wedding bands that suit your and your partner's style and preference.
His & Her Wedding Bands
When bling and mega-sparkle make your world go round, find the perfect couples jewelry to triple the spark of your romance. Choose from a range of radiant matching jewelry for couples in the form of his and her wedding bands available at Friendly Diamonds or find a design online and have it customized, to reflect your personal style, as a couple.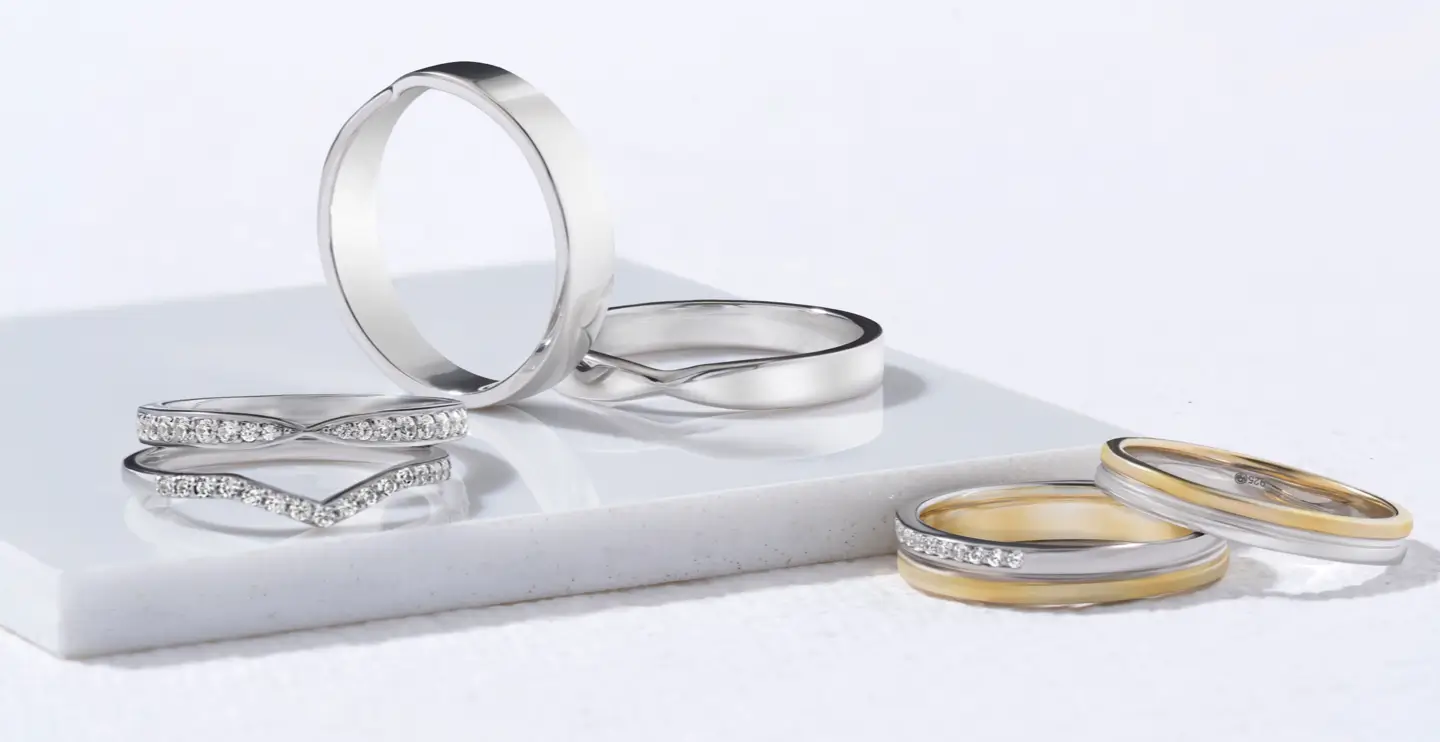 Simple and Classic Designs
Choose from a wide range of couple rings, including two-toned styles like the Irreplaceable Love Couple Rings, Unfading Love Couple Bands, and Immortal Love Couple Bands, known for their simple yet classic designs crafted with platinum or gold variants of 18kt, 14kt, and 10kt available in white, yellow and rose gold, with classic detailing, for a simple yet elegant style statement, as a couple.
Lab Diamond Studded Rings
If sparkling elegance is your couple vibe, then rings like The Everlasting Love Couple Rings, Endless Love Couple Rings, Beau Couple Rings, and Amour Couple Rings have just the right amount of sparkle as they are studded with lab-grown diamonds. Available in 18kt, 14kt, and 10kt purity, these rings come in gold variants of white, yellow, and rose gold. The diamond settings of these trending designs add a sparkling touch to the ring, lending it verve.
Always Make the Right Choice
When choosing the right set for yourselves, it is essential to remember that these rings are meant to last a lifetime in honor of your bond. So choose a design or ring style that best suits your personal tastes and lifestyle. You can also create your own ring with Friendly Diamonds by choosing your ring setting and diamond for the perfect ring.
Take Care Of Your Couples Jewelry
When buying couple rings, it is best to remember that they are worn daily, keeping in mind the range of activities one takes on, professionally and personally. It is always advisable to take off any expensive jewelry or delicate jewelry when undertaking strenuous activities that could potentially jeopardize any protection plans on your jewelry insurance.
Whether it's couple bands, His & Her jewelry, or other couples gifts, you will always find a piece of jewelry to celebrate the timeless, eternal bond of love. Choose to celebrate your special bond, with matching jewelry for couples, an everyday reminder of that beautiful person who is your own.