Found the woman of your dreams? Check. Initiated a conversation with her? Check. Had a successful first date? Check. Fell in love? Check.
Now what?
It's time for the ultimate question and the perfect engagement ring that would be the highlight of your proposal!
If you are wondering why it is essential to make a perfect choice or pick the ideal engagement ring feature to enhance your sweetheart's beauty, then it's time to tell you a story while taking a short trip down history lane.
You would be surprised to know that these dainty diamond stones on engagement rings were an unknown concept until 1477 when the Archduke Maximillian of Austria presented the first diamond engagement ring. Thanks to this act began the tradition of proposals with these penchants of beauty, and today we have various types of engagement rings available.
Interestingly, the types of engagement ring styles, which were adorned with the diamond stone set, were first introduced not before 1477. Despite that, there were still traces of exchanged jewelry between the bride and the bridegroom before marriage.
It is said that the engagement ring was a ritual or a convention that emerged from Roman traditions. Here, the wives put on a ring linked to small keys, signifying their commitment to their husbands.
However, that's not the case now. With time the significance of this symbol of commitment grew more profound, and there was an evolution in the types of engagement ring settings used. Engagement rings today are more than a mere marriage contract; it stands as a mark of love, friendship, and a shared commitment between two people.
It symbolizes the journey the couple wishes to embark on together and signifies the infinite love they share, a promise to cherish each other for the rest of their lives.
Choosing between bigger gems or smaller diamonds for that extra sparkle can be tricky when looking for an engagement ring. You should always look at the various types of engagement rings available today and consider which one would best suit you.
Your engagement ring is a token of love representing the beautiful connection you have with your partner. It is a true representation of the union of two hearts and is the ultimate promise of marriage that is soon to come.
Filled with such deep meaning, choosing the ideal ring for your soul mate becomes crucial. Now, the challenge is to pick out your desired ring from the assortment of several types of engagement rings.
An engagement ring with a center stone can sometimes blur your decision to pick what your heart truly desires for you or your partner. A confusion may tag along as a range of choices available when it comes to types of engagement rings, which can confuse one on whether to pick from simple bands or rings styled with solitaire settings. There is also the ring setting to be considered, like should you go for a prong setting or a channel setting.
Moreover, if planning to propose to your love, going through the range of various types of engagement rings to find the right one is imperative so that you make your partner's dreams come true. You most certainly want to look for a sparkle that your partner will flaunt joyfully to the world.
For that to happen, you need to figure out the ideal ring that flatters your partner's hand and suits his/her finger. Interestingly, choosing from different types of engagement rings is like picking an outfit that fits perfectly well. You need to consider the sizes and the shapes of not only the jewel piece but also the finger.
Each finger length embraces a unique ring design. You must consider the numerous types of engagement rings available to fit the hand and match well with your partner's personal style and way of life. Therefore, it's incredibly pertinent that you consider all factors.
Engagement ring styles for long and thin fingers
If your partner has longer and thinner fingers, a bolder and broader band style shall suit him/her better. Rings with wider bands complement the length of long and slender fingers, allowing your partner to pull off a bold and striking look. Even though it would match well with the finger, you must consider your partner's style and preference before choosing such a ring.
It is recommended that you pick from different types of engagement rings with diamond cuts that either have a princess cut or a brilliant round cut as they will flatter the ring's look tremendously.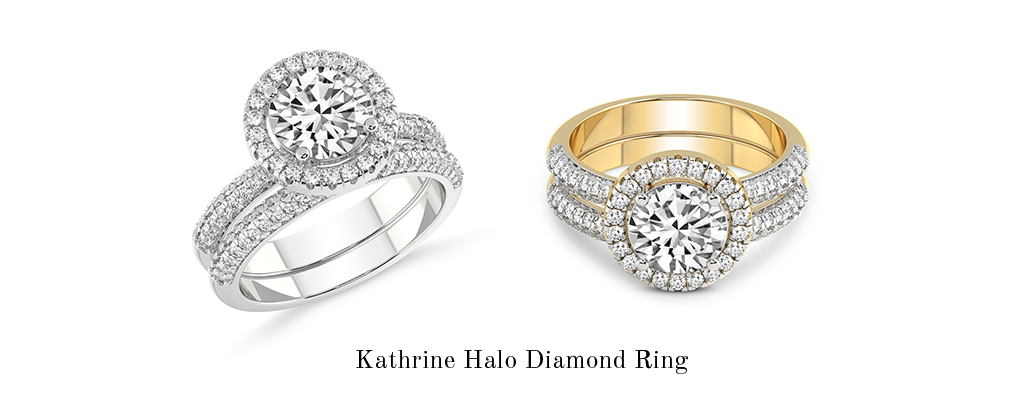 For instance, the Kathrine Halo Diamond Ring from the Friendly Diamonds collection, which sports a round diamond stone circled by tiny halo diamonds, is definitely a perfect match for longer and thinner finger shapes. Similarly, with its broader band, the Ivory Vintage Solitaire Ring could be the ideal ring that matches well with your partner's finger.
Engagement ring styles for slender fingers
On the flip side, if your partner has slender fingers, the best option is to pick a ring with smaller gemstones to make thinner fingers look wider. Thicker bands are also a great choice as they have a way of widening the wearer's finger.
The Sandra Side Stone Diamond Ring from Friendly Diamonds has a wider band adorned with smaller diamonds on the shank that'll match well with slender fingers. It's a versatile ring that'll pair well with your daily outfits and wardrobes when dressing up for special events.
Engagement ring styles for short fingers
Jewelry, be it a wedding ring, a wedding band, or an engagement ring, is supposed to embolden your look, and that is precisely what a narrow width band can do to shorter fingers. If you are blessed with adorable short fingers, an oval, pear, or marquise stone ring can make your fingers appear longer.
The Serena Eternity Diamond Ring is an exceptional choice for those with shorter fingers as it has a delicate band with a gorgeous center stone to highlight the wearer's overall look.
Engagement ring styles for wide fingers
There is a secret to choosing the perfect ring for wide fingers from the different types of engagement rings available. The secret is to have the finger covered as much as possible to avoid the ring from looking wider. An advantage of having wider fingers is that there is more room to experiment with vintage or funky designs.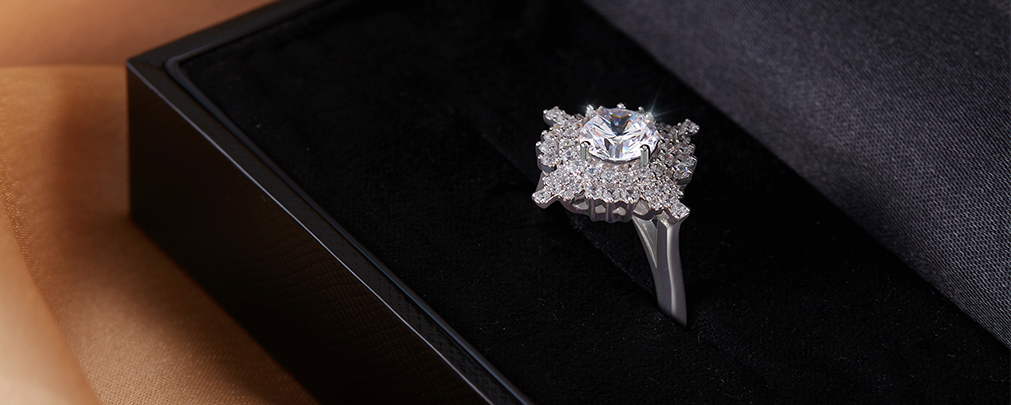 Similarly, the rings which showcase a cluster style or round stones usually pair well with wider fingers. Asymmetrical or angular designs subtly make your wider fingers look more narrow.
Hence, if your soon-to-be fiance has wider fingers, then wide oval, marquise, or rectangular stones are the ideal pick for you. The outstanding Bloom Vintage Halo and the Indigo Vintage Diamond Ring are the best picks for those with wider fingers.
You must consider all the factors mentioned above before deciding on the one ring you want when looking through various types of engagement rings available. No one other than you can be a better judge of the perfect ring that your partner desires.
Thus, Friendly Diamonds, an online eco-friendly jewelry brand based in New York, is your best option. The brand offers sustainable lab-grown diamond jewelry and also has a "Create Your Own" range that allows you to create your dream engagement ring in just a matter of minutes.